we got all of our errands done today,
on our mutual day off. (every tuesday.)
everyone at the christmas tree place was in a good mood,
it rubbed off on us and we went to his parents to watch hockey hang out with his dad while his mom works at ups until 2am. i read "real simple" which i decided i like more than i thought i did and copieed a recipe out of it for interchangable cookie dough. if it comes out good i'll post about the cookies here.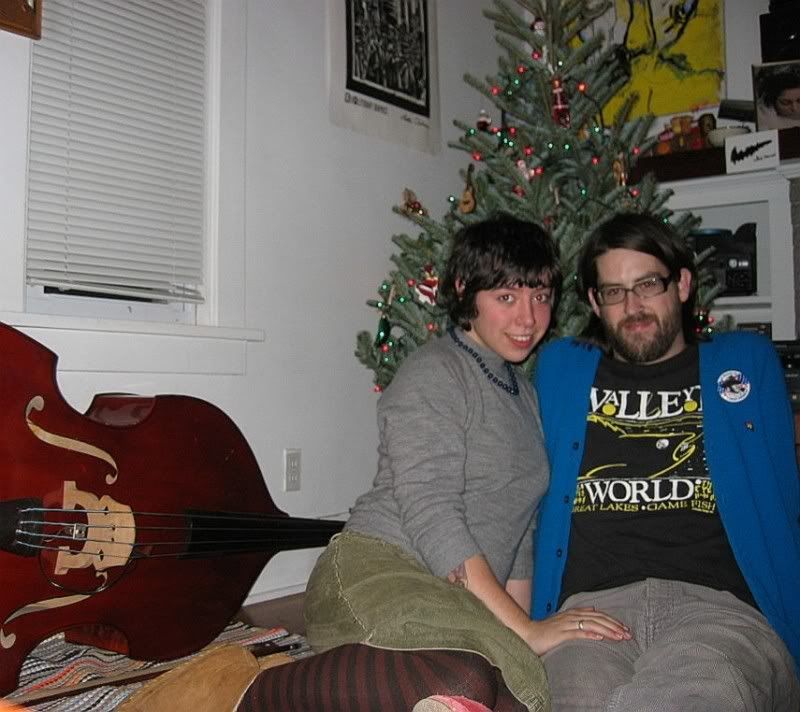 i'm dreamin' of a white christmas.

us after a long day.
there's snow and ice on the ground.
our car had icicles that looked like a runny nose.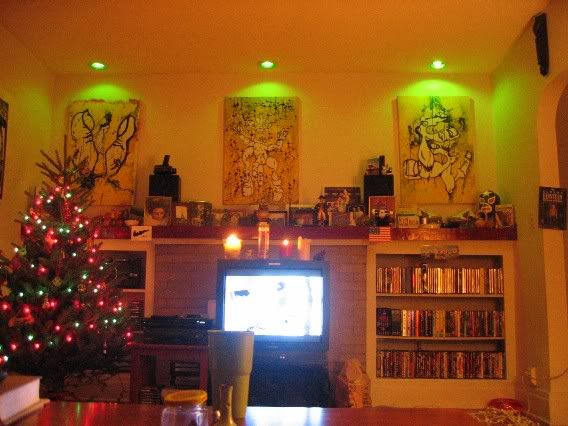 view from the couch.
paintings by phillip.
simpsons on the tv.
fresh tree to the left.
dvds to the right.
along the mantle the accumulation that i like to call "wootzits."
there are quite a few ceramic figures but some stand out pieces from left to right are:
rollerskates,
laura palmer 8x10,
various phill in europe tour photos,
jfk bust,
a picture of the galbraith brothers,
polaroids of me, phill, my father and his girlfriend all dressed up in plaid in south carolina,
more rollerskates,
and a mexican wrestling mask.




when you walk in our apartment door this table is directly to your right. it's the key table and you can't see it but the surface is heart shaped. vintage stencil that reads:
are we next?
BE
AWARE
it was made in the 70's and people already knew that fascism was in the air for america.
on the table is a panda, a koala and an owl. (and one of my inside out cut off gloves in lime green.)

first post.
<3